Page 8
Masamune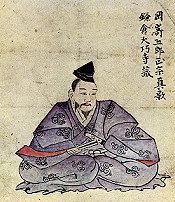 Okazaki Masamune (known just as Masamune ) is said to have created many superb swords. Sword making lineages formed by Masamune's pupils continued to forge swords with Masamune's own particular characteristics. Masamune is thought to have been trained by sword smiths from Bizen and Yamashiro provinces, such as Shintogo Kunitsuna and Kunimitsu.
Masamune himself went on to train many disciples.
The 10 Great Pupils of Masamune who gathered from various regions of Japan where:-
Rai Kunimitsu, Hasebe Kunishige,Kaneuji,
Kinju,Yoshihiro,Norishige,
Naotsuna,Kanemitsu,Chogi,andSa
In our present time it is extremely difficult to find swords signed with Masamune's own signature and these rare finds are worth a considerably amount of money. The unsigned swords that have been attributed to Masamune and their splendid craftsmanship have led to the high praise of Masamune as a master sword smith. Today Masamune is Japan's best-known sword smith, far outstripping the fame of many other master sword smiths.
The edge of Okazaki Masamune blades where not considered to be as good as his best disciple namely Muramasa. How ever Muramasa blades are considered bad luck. They where believed to be bent on killing and destruction leading there owner in endless unnecessary battle and eventual death